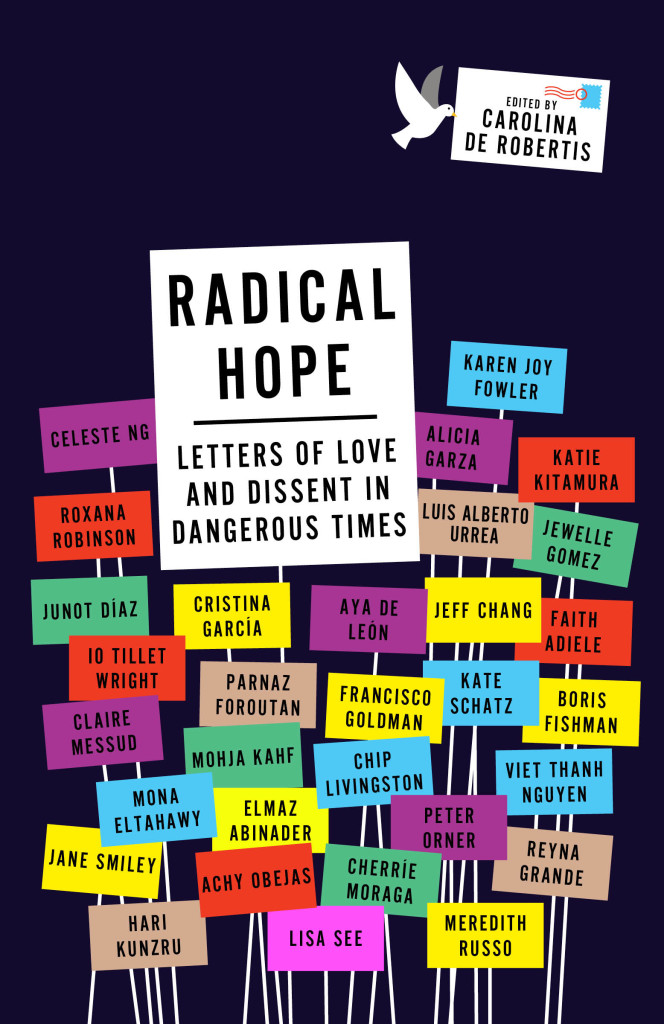 "This anthology is like the book version of a Justice League of superheroes: a collection of writers to guide us through tumultuous political times."
—Vulture.com
"A glorious symphony. . . [Radical Hope] expands my idea of home, of hope [and] is just what I needed at this alarming moment in our country's history; I know others will feel the same way. All of us could use a good shot of radical hope right about now. . . . I can picture people carrying this book with them in a totemic way. And not just carry it–use it. . . . The inspiration found in these pages is evergreen."—San Francisco Chronicle
"Diverse, eloquent, and unapologetic pieces that speak to the heart and underline the sentiment that the personal is political…This collection is a plea to defy the idea that positive change is impossible."
—Publishers Weekly
"[A] powerhouse of a book…each letter in the book is a jewel."—San Francisco Book Review
"I think I'm going to want to read this Baldwin-inspired collection yesterday, now, and through the conceivable future."—Electric Literature, "34 Books by Women of Color to Read This Year"
"Timely. . . . [Radical Hope] provides some comfort, direction, and inspiration. . . . Many readers will doubtless find solace in the volume."—Kirkus Reviews
"Radical Hope reminded me, once again, that I wasn't alone…By the end of the collection I am convinced…I am more hopeful. And I know that I am among many who believe in what [Junot] Díaz assures us in the close of his own letter: 'Darkness, after all, is breaking. A new day has come.' "—The Miami Rail
Radical Hope: Letters of Love and Dissent in Dangerous Times addresses the tumult and danger of these times, from the perspective of a range of leading novelists, poets, journalists, and political thinkers. These epistolary essays, or essays in letter form, are woven into a passionate narrative, and divided into three sections: "Roots" explores the histories that bring us to this moment, with many letters addressed to ancestors; "Branches" addresses present-day people or communities—a stranger in the supermarket, Baby Boomers, Millennials, white people, artists, the protestors at Standing Rock—and delves into complex questions of our current era; and, finally, "Seeds" looks to the future by speaking to new generations, to sons and daughters, to godchildren, or to imagined children yet to be born, all of them inheritors of what happens now.
Order from:
The anthology offers readers an antidote to despair: it is a salve, a balm, a compass, a rallying cry, a lyrical manifesto, a power source, a torch to light the way forward.The contributors are Achy Obejas, Alicia Garza, Aya de León, Boris Fishman, Carolina De Robertis, Celeste Ng, Cherríe Moraga, Chip Livingston, Claire Messud, Cristina García, Elmaz Abinader, Faith Adiele, Francisco Goldman, Hari Kunzru, iO Tillett Wright, Jane Smiley, Jeff Chang, Jewelle Gomez, Junot Díaz, Karen Joy Fowler, Kate Schatz, Katie Kitamura, Lisa See, Luis Alberto Urrea, Meredith Russo, Mohja Kahf, Mona Eltahawy, Parnaz Foroutan, Peter Orner, Reyna Grande, Roxana Robinson, and Viet Thanh Nguyen.
Provocative and inspiring, RADICAL HOPE offers readers a kaleidoscopic view of the love and courage needed to navigate this time of upheaval, uncertainty, backlash, and possibilities for change.