I'm pleased to say that The Gods of Tango is now out in paperback in the United States, with a brand new cover design.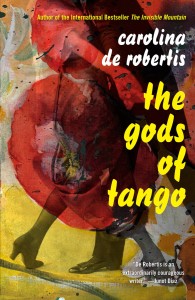 In celebration, I'll be appearing at a launch party at Booksmith in San Francisco on May 26,  and at the Bay Area Book Festival on June 5 — as well as Radio Tango Angeles and the Stonewall Book Awards in Florida.
Also, I've written a guest blog at the Vintage Reading Group Center on "The Hidden History of the Tango."
"I grew up accustomed to people knowing little or nothing about my countries of origin, and although the tango is in many ways highly visible in the United States—as a popular dance and as a romantic interlude in Hollywood movies—its true history and richness are rarely portrayed. I wrote The Gods of Tango in part to fill in some of those gaps, to bring to life, through fiction, the incredible hidden story of tango."
You can read the rest here, as well as glimpse some footage of the remarkable singer Azucena Maizani performing in drag in the 1920's — one of the many hidden treasures that make up tango history — which is, fundamentally, one thread in the great weave of Latin American history, women's history, and the cultural history that reveals who we are, and who we can become.